In addition to these projects, Ruby Slippers is took part in the official Canadian Delegation attending the Six Stages Theatre Festival in Prague. We also met with several presenters, artists and Festival Directors across Europe to further expand our pool of collaborators and opportunities abroad and at home.

Citizen Pochsy
In March 2003, Ruby Slippers (in association with The Firehall Arts Centre) presented the Canadian premiere of Karen Hines new play. The third in the cult-classic Pochsy Trilogy featuring the irrepressible Karen Hines, CITIZEN POCHSY was described as "an apocalyptic vision of Betty Boop with the face of Clara Bow and the heart of Joan Crawford."
A dynamic collision between Dante's Inferno and Pochsy's day timer, Citizen Pochsy comically mines the treacherous territory of contemporary citizenship.
The Cat Who Ate Her Husband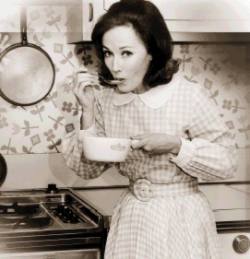 Ruby Slippers Theatre proudly produced the premiere production of local playwright Drew McCreadie's black comedy, The Cat Who Ate Her Husband at the The Firehall Arts Centre.
This dark sexual satire offered merciless insights into the secret fears and fantasies of six sheltered suburbanites. It was directed by Diane Brown.
The Cat Who Ate Her Husband won 5 Jessie's for Small Theatre
Outstanding Performance by an Actor in a Supporting Role, Alex Ferguson
Outstanding Costume Design – Rebekka Sorenson The Cat Who Ate Her Husband.
Outstanding Original Play or Musical – Drew McCreadie
Sydney Risk Award for Outstanding Original Script, Drew McCreadie
Larry Lillo Award for Outstanding Direction of a Play or Musical – Diane Brown, Ruby Slippers Theatre.
M-M-M

Ruby Slippers developed a new work with Playwright Lucia Frangione over the course of the season. Three dramaturgical workshops with Rachel Ditor culminated in a public reading with professional actors in July of 2003. Ruby Slippers has scheduled the premiere production in the fall of 2003.
The working title of the project is M-M-M.
Mod is the icon child product of Marilyn Monroe and the grand daughter of Mae West. She is at a crisis point in her life. She has to choose between a career in the fashion industry as a top world model or accept NASA's offer, and her growing intolerance of wheat is taking up far too much of her energy with food preparation. She's addicted to Yoga, allergic to oxygen, can't find her G spot, and has a boyfriend who refuses to support her lesbian explorations. These conflicts lead to a deconstruction of feminine ideals from the last century, and a wishlist for the next as she attempts to carve out her own sexual identity.