Credit: Black Lives Matter, https://blacklivesmatter.com
Silence Is Not An Option
We at Ruby Slippers Theatre condemn the murder of George Floyd, an act of inhumane police brutality, that is perpetuated by a culture of white supremacy. We in Canada share that culture, and we must commit ourselves collectively to dismantling white supremacy here at home, acknowledge that white privilege has come at the expense of BIPOC past and present, and rebuild our nation with justice and respect for all. We remain steadfast in our commitment to radical inclusivity and diversity in all that we do, empowering the under represented and working with BIPOC to abolish colonialism, misogyny and white supremacy.
Here is a Vancouver-specific initiative at https://mutualaid.shadowsmile.ca/; this problem is as entrenched here as anywhere.
Also, the VPL put out this fabulous list of children's ebooks called "Stand Up! Racial Identity, Racism and Resistance for Grades K-7" at https://vpl.overdrive.com/library/kids/collection/1085869
The federal government page of anti-racism resources is at https://www.canada.ca/en/canadian-heritage/campaigns/anti-racism-engagement/resources.html
View our latest email newsletter.
Call for Submissions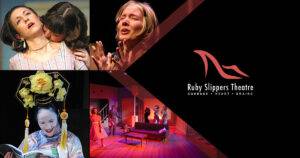 Ruby Slippers Theatre 
in partnership with
 the Vancouver Fringe Festival, Playwrights Theatre Centre, Playwrights Guild of Canada 
and
Savage Society
proudly present:
ADVANCE THEATRE:
New Works by Diverse Women, 2020.
For more information
click here.
From Alaska
April 17-25, 2020 (preview April 16) – Cancelled
View Press Release
Gateway Theatre, Richmond
Celebrating 30 Years of Radical Inclusivity.