Written and performed by Yvonne Wallace 
MAY 5–13 – Completed
Vancity Culture Lab, The Cultch
ūtszan (to make better) is a one-woman show performed by the playwright/actor Yvonne Wallace about first language reconnection and reclamation. Auntie Celia is at the end of her days. She has suffered from a heart attack and realizes that she has very little time left in this world. She makes a decision to have others accommodate her by refusing to speak English. Margaret, her niece, is about to discover that a lifelong path is starting to unfold. Taken to task, Margaret learns how to think and speak in her Ancestral first language, Ucwalmícwts. Love will give her the strength she needs to let go as she realizes that the language is easy and it's the life that is hard. 
Sponsorship for útszan (to make better) provided by

Yvvone Wallace performs ūtszan (to make better). Photos by Emily Cooper.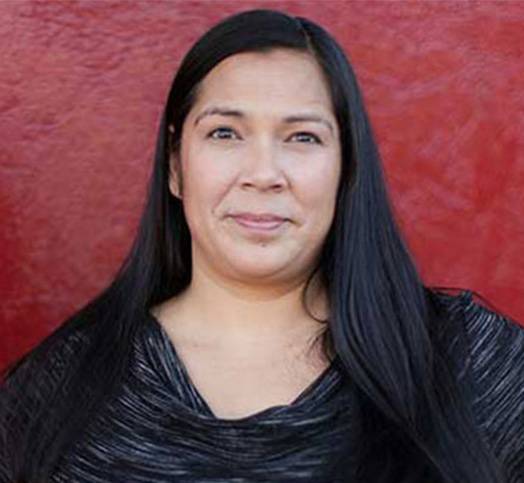 Yvonne Wallace (Ucwalmicw) is from the Lil'wat Nation. She graduated the Bachelor of Liberal Arts degree program at Capilano University and is currently working on her Master's in Education Leadership at UBC. Her enthusiasm for theatre began while she worked at The Centre for Indigenous Theatre. Later, she graduated with honours from Humber College Theatre Acting program.She has written three plays: "Smothered Sweetly," "The Last Dance," and "ustzan (to make things better)," a play dealing with language reclamation and her first language fluency progression. ūtszan premiered in Whistler, in 2019, Yvonne's traditional Territory; and has toured to Dawson City, Whitehorse. She is looking forward to honouring her bookings that were scheduled as playwright and performer as soon as our current situation becomes safe. Yvonne can be found in N'quatqua working on her fourth play, "ReZonance." 
Playwright and performer Yvonne Wallace
Directed by Marisa Smith and Yvonne Wallace
Set Design by Kimira Reddy
Lighting Design by Itai Erdal
Sound design by Rick Colhoun and Russel Wallace
Projection Design by Andie Lloyd and Yvonne Wallace
Props by Monica Emme
Stage Manager Emma Hammond
Technical Director Debbie Courchene
This show is a Vancouver Premiere