IN THIS ISSUE
Sereana Malani rocks the Flying Monkey
Speak Up! Series
From Alaska English premiere
Jessica Hood Artist in Residence update 
Playwrights Guild of Canada interview with Artistic Director Diane Brown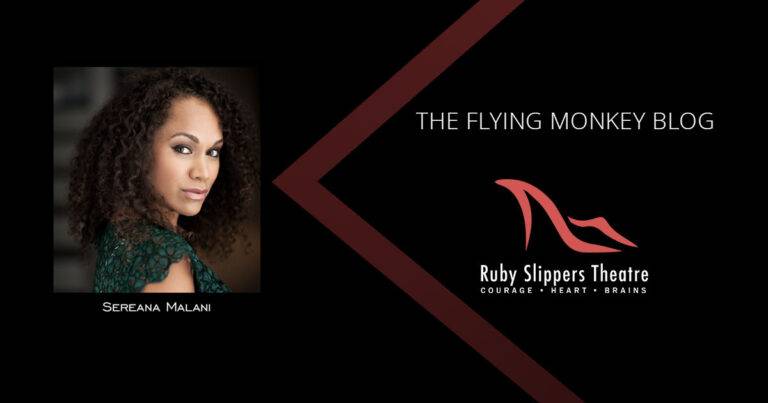 If you have a story of misconduct in the rehearsal hall to tell, but are afraid to tell it due to possible retribution, you can tell it here. As part of the Flying Monkey blog, we are going to publish a series of anonymous true stories from the national theatre community to help raise awareness around the ongoing issues of bullying, harassment, discrimination and abuse of power. Have you made a complaint and nothing positive resulted from it? Tell us about it. Too intimidated to make a formal complaint? Tell us about it. If you have ideas about how the issue or incident should have been handled and it wasn't, tell us about it. We are here to listen,  to empower, and to let you know that you are not alone. We are also going to forward all of your ideas about resolving/dealing with stated forms of misconduct to The Canadian Actors Equity Association and the Professional Association of Canadian Theatres to further this important dialogue and enhance solutions.
Email your story to [email protected] with attention to Speak Up! and join the conversation on our Flying Monkey blog. No names will be printed.
---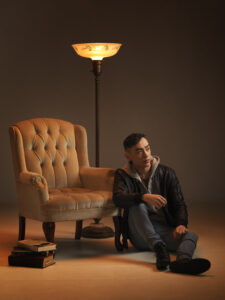 Photography by David Cooper.
FROM ALASKA
By Sébastien Harrisson. Translated by Leanna Brodie.
Directed by Diane Brown.
Produced by Ruby Slippers Theatre.
April 16 – 25, 2020 • Opening night April 17th
Canadian Drama
What could a manic, skateboarding adolescent and an ailing retired librarian possibly have in common? Why does time pass differently for the broken-hearted? What do you do when the one you love the most in the whole wide world, is gone?
Within its central metaphor of people frozen in time by grief, From Alaska (original French title: D'Alaska) explores the intense connection between young and old; the limits of language; and the ways in which we come to both transform and mirror the ones we love.
Audience considerations: Profanity and mature subject matter. Recommended age: 13+Artistic TeamKELLI FOX as Miss
JASON SAKAKI as Today
Lighting Design JOHN WEBBER
Original Music and Sound Design HEATHER KEMSKI
Set and Costume Design DREW FACEY
Assistant Set & Costume Design JESSICA HOOD
Visual Design JORDAN LLOYD WATKINS
Technical Director ADRIAN MUIR
Stage Manager SUSAN D CURRIE
Assistant Stage Manager NICO DICECCO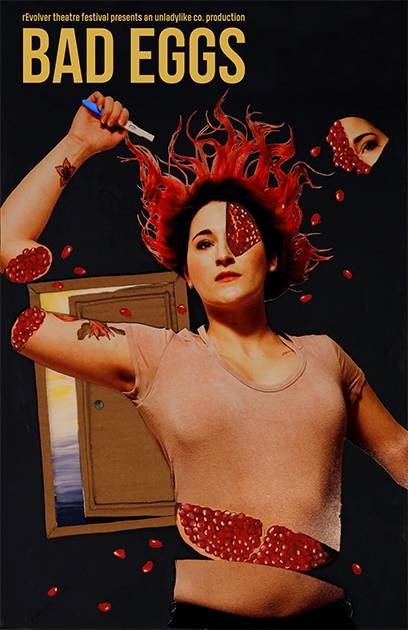 bad eggs
written by Jessica Hood
directed by Genevieve Fleming
 
Persephone and Hades have been trying to have a baby for nearly a year with no luck. Growing anxious, Persephone decides to see the fertility doctor, Eve, who also happens to be her mother. Problem is, Eve hasn't spoken to her since she eloped with Hades, and Persephone has debilitating panic attacks whenever she tries to leave the house. Her world crumbling around her, Persephone must discover who she really is, aside from being a wife and daughter. Through a feminist and darkly comedic lens, bad eggs explores the parallels between two women who ate "forbidden fruit".
Who is Persephone, really? She's about to find out.
Show dates:
May 20 at 9:30 pm 
May 21 at 9:30 pm (ASL)
May 22 at 7 pm, with a talkback at 8:30 pm
May 24 at 5:30 pm (Vocal-Eye)
Historic Theatre at The Cultch
We are so grateful for our generous donors. 
Sarah Rodgers, Patti Allan, Jane Westheuser, Meredith Elliott, Wendy Morrow Donaldson, Nancy Caldwell, Rob Taylor, Diane Kent, Dave and Elaine Downey, June Hahn, Leah Muhleman, Carol Brown, Deborah Williams, Virginia Cooke, Jane Heyman and Lionel Johnston, G and M In honour of Paul Lermitte, Mike Stack, Mairy Beam, Mary Truong, Dr. Terry Papneja, Antonio Loy, Henry Truong, Craig Boyll, Thomas S Woods, Debra Seaboyer, Crista Walker and Geoff Hoare.
Season Sponsors
The Peter and Melody Anderson Foundation.
Ruby Slippers Theatre would like to thank our Season Sponsors John Fluevog Shoes and CWest Solutions.
Ruby Slippers Theatre gratefully acknowledges the financial support of The Canada Council for the Arts, The British Columbia Arts Council, the Province of British Columbia, The City of Vancouver, The Vancouver Foundation, The Hamber Foundation and our many individual donors and supporters.
Donate
All donations receive a charitable tax receipt.
Our Vision
Ruby Slippers Theatre imagines a world where diversity is celebrated through a deeper understanding of each other.
Our Mission
To bring this vision to reality, RST illuminates under-represented perspectives and inspires independent critical thought by giving voice to diverse, female-identifying artists and by premiering significant Québec works in English translation on the West Coast.
RST acknowledges that we are on the stolen lands of the Coast Salish People, the xʷməθkʷəy̓əm (Musqueam), Sḵwxwú7mesh (Squamish) and səl̓ílwətaʔɬ (Tsleil-Waututh) First Nations. We are committed to learning to work in solidarity with Indigenous peoples as accomplices in shifting the colonial default.