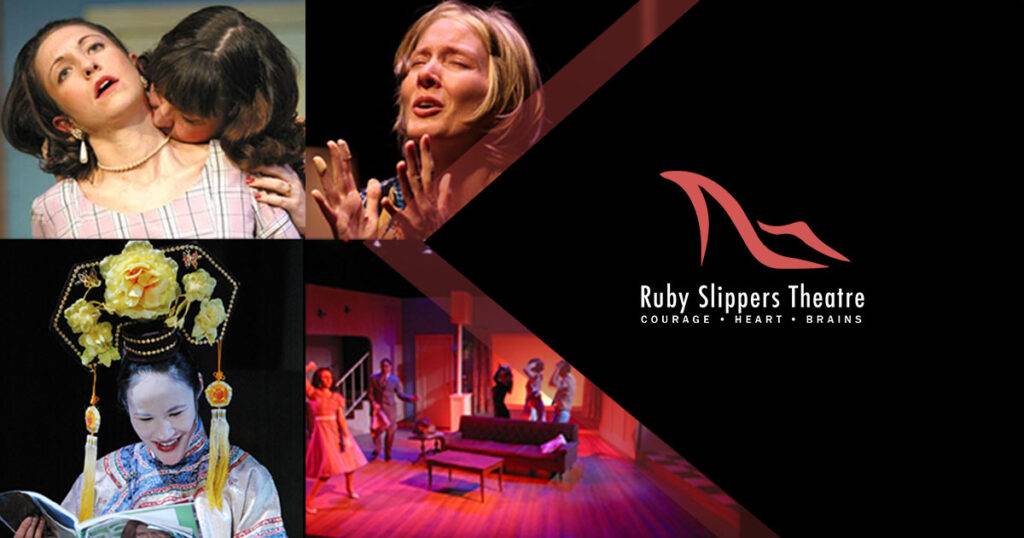 First off, Ruby Slippers Theatre wishes everyone love and strength as we get through this difficult time. We would also like to thank our friends and supporters for their generosity, and for all the encouraging messages we have received since cancelling our spring show From Alaska. It is humbling and deeply moving to know that our core audience is with us, no matter what. Know that we are here for you, too, and not going anywhere!

That is why we are planning a fulsome and radically inclusive 2020/21 season, and inviting you to celebrate and support courage, heart and brains with us– high calibre theatre that builds community and empowers the marginalized.

Up next at RST? Two provocative main stage premieres, and our five-day five-play festival Advance Theatre: New Works by Diverse Women featuring all female-identifying Indigenous creators and directors! Moreover, we have a work in translation and a work in development…

Of course, we cannot do all this alone – Ruby Slippers Theatre can only continue to further the voices of the under-represented through excellent programming with support. So, if you are able, please consider a tax-deductible donation to RST through Canadahelps.org. Visit www.rubyslippers.ca to become a member, explore what we do, and see all the many artists we support through our work.
Some ongoing celebrations
Our Flying Monkey blog continues to illuminate crucial issues in the performing arts, penned by prominent members of our community: Kim Senklip Harvey on the importance of non-Indigenous people to do their acknowledgment work, Sereana Malani on the realities of becoming an actor, and managing trauma on and off the stage by Marisa Emma Smith, to name just a few. 

Also on our blog, an ongoing series called Speak Up! featuring theatre industry folks anonymously sharing their stories of discrimination, abuse or harassment, and their thoughts on the kind of recourse that are needed.

In closing, stay safe and take care of yourselves physically and mentally. We will see you again at the theatre to share and be inspired together by thought-provoking, sometimes hilarious, insightful, relevant art.
Sincerely and with love, 
The RST Board of Directors and Staff: Lysa, Melody, Nancy, Mikayla, Carmen, Jeanne, Larisse, Diane, Grace, Erin, Collene, Leanna, Jessica and Tai.