February 4, 2017: Ruby Slippers Theatre is thrilled to announce that Artistic Director Diane Brown is the 2017 recipient of The Bra D'Or Award. Diane was presented the prestigious award by playwright Carmen Aguirre at the opening night performance of You Will Remember Me at the Gateway Theatre. The Bra D'Or Award is presented annually to an individual who has supported the advancement of Canadian women playwrights.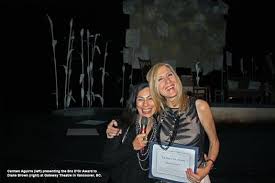 The Womens' Caucus of Playwrights Guild of Canada offered the following commendation on Diane's award: "Over the last 26 years, Diane Brown has consistently championed works by women. As Artistic Director of Ruby Slippers Theatre, Diane has an extensive history of showcasing works by women in her regular programming. She also created and initiated both the Advance Theatre: New Works by Women five-day festival and the Femmes Fatales Series, where women perform their own work. Diane's fundamental commitment to, and record of, producing outstanding plays created by women, makes her very worthy of this award."
Diane Brown is a multi-award-winning director and actor and co-founder and Artistic Director of Ruby Slippers Theatre. She initiated Advance Theatre: New Works by Diverse Women in 2015 in response to the continued under-representation of women playwrights on Canadian stages. Diane is the Chair of Theatre Cares Vancouver, sits on the Theatre Advisory Committee for Langara College, and is involved with several social justice and environmental initiatives. A graduate of SFU, Diane is currently undertaking her master's degree at UBC.
"I am so honoured to receive this award, as it is very meaningful to me," says 2017 recipient Diane Brown. "For years I have been, like many others, working to redefine 'normal' on Canadian stages, to have gender equity and diversity issues be a thing of the past. In these frighteningly reactionary times it is more crucial now than ever to collectively commit ourselves to bringing diversity of all kinds to our stages, including, of course, women playwrights and their stories, which make up so little of our mainstage professional fare. Inclusivity is what makes theatre a humanizing and powerful force in our society."
Advance Theatre: New Works by Diverse Women is presented in association with The Fringe Festival and Equity in Theatre. The third annual festival of staged readings of plays written and directed by women will take place September 11-15, during The Fringe Festival.
ABOUT RUBY SLIPPERS THEATRE
Multi-award winning Ruby Slippers Theatre creates, produces, and presents provocative text-based theatre from the vanguard of the English and French Canadian canon. We tell stories that illuminate diverse perspectives and social issues.