we the same by Sangeeta Wylie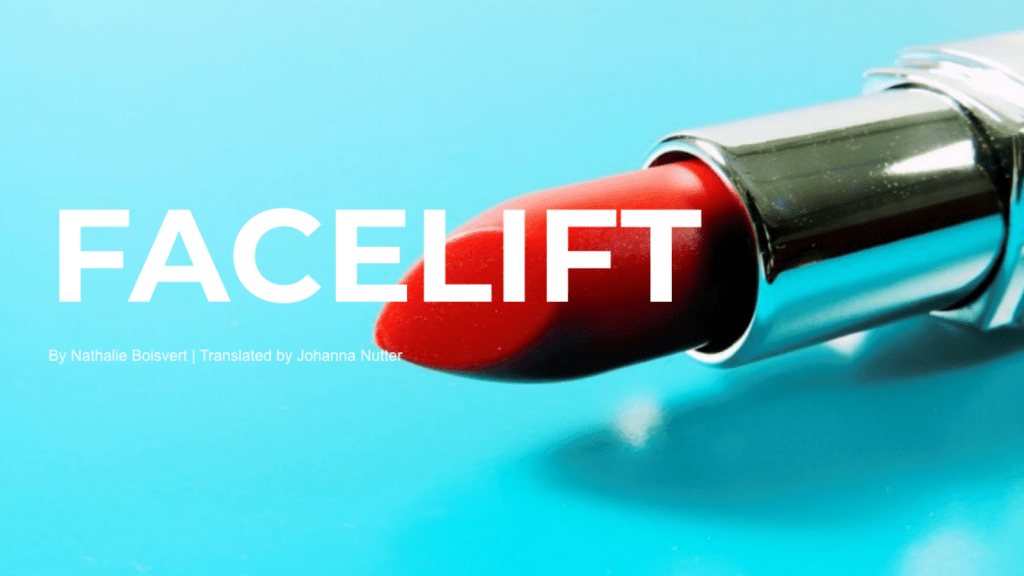 In association with Ruby Slippers Theatre
By Nathalie Boisvert | Translated by Johanna Nutter
Date:
Sunday JULY 18, 2021
Time:
Noon Pacific / 3 pm Eastern / 8 pm GMT
First the foundation, then the eyes and finally the mouth…As she paints the perfect face, she shares with us the secrets of successful make-up, her need for this camouflage, the dangers of age, loneliness and failure. The daily make-up application turns into a examination a woman's life, questioning her relationship with beauty, seduction, ageing and freedom. A brand new work, Facelift was featured at TEAMTHEATER TANKSTELLE e.V (Munich) and TeamTheatreGlobal:Quebec 2019
HOW TO ATTEND
Click the link below at showtime 
https://us02web.zoom.us/j/84414879455
FREE event.
No registration required. Capacity 100. Latecomers welcome – audience does not appear on screen.
ABOUT THE PLAYWRIGHT
NATHALIE BOISVERT (she, her, hers) holds a bachelor's degree in acting and a master's degree in drama from the University of Quebec in Montreal (1993). In 1997, her first play, The Sordid Story of Conrad B., was performed at the Festival ide Spa (Belgium), remounted in Brussels and translated into English by Bobby Theodore. In 1999, her work, L'été des Martiens (Lansman) premiered simultaneously in Quebec (Théâtre Niveau Parking) and France (La Comédie de la Mandoune) and again produced simultaneously in 2006 in Dusseldorf (Landstheatre) and Berlin (Grips) in German translation by Frank Heibert. Translated into English by Bobby Theodore, it was also produced in 2002 by Theatre Direct (Toronto). In 2006, her play Vie et Mort d'un village, received lauréate des Journées de Lyon (Éditions Comp'Act) and she received le Prix Gratien-Gélinas in 2007 for Buffet chinois. Her Antigone au printemps was a finalist for the 2018 Governor General's Award French Language Drama and received the Prix Émile-Augier.
ABOUT THE TRANSLATOR
JOHANNA NUTTER (she, euro-settler, multidisciplinary artist) developed her passion for translation through acting: being one of few perfectly bilingual theatre artists, she played leading roles at Centaur (Good People, You Will Remember Me) and La Licorne (Les Événements). The attention of both circles came thanks to the success of her solo my pregnant brother/mon frère est enceinte, which she translated during a residency in Tadoussac, accompanied by Linda Gaboriau. The show toured across Canada and Quebec in both languages, and to the UK and Belgium. Subsequently, she translated the works of Annick Lefebvre (Barbed Wire), Guillaume Corbeil (You'll Go Looking for Her), and Florence Longpré & Nicolas Michon's ballet-theatre hybrid CHLORINE, which she also produced and directed at Centaur, with her company creature/creature. Acknowledgements These translations and workshops are made possible by grants from Canada Council for the Arts and produced with the co-operation of the UBCP/ACTRA. Special thank you to: Canada Council for the Arts, The Canadian Play Thing, Centre des auteurs dramatique, Global Hive Labs., PTC, Playwrights' Workshop Montreal, The Presentation House Theatre, Ruby Slippers Theatre, Théâtre la Seizième, Canadian Actors' Equity Association, & UBCP/ACTRA.

Advance Theatre: New Works by Diverse Women is produced by Ruby Slippers Theatre in partnership with The Vancouver Fringe Festival and Playwrights Guild of Canada.
Festival curated by Tai Amy Grauman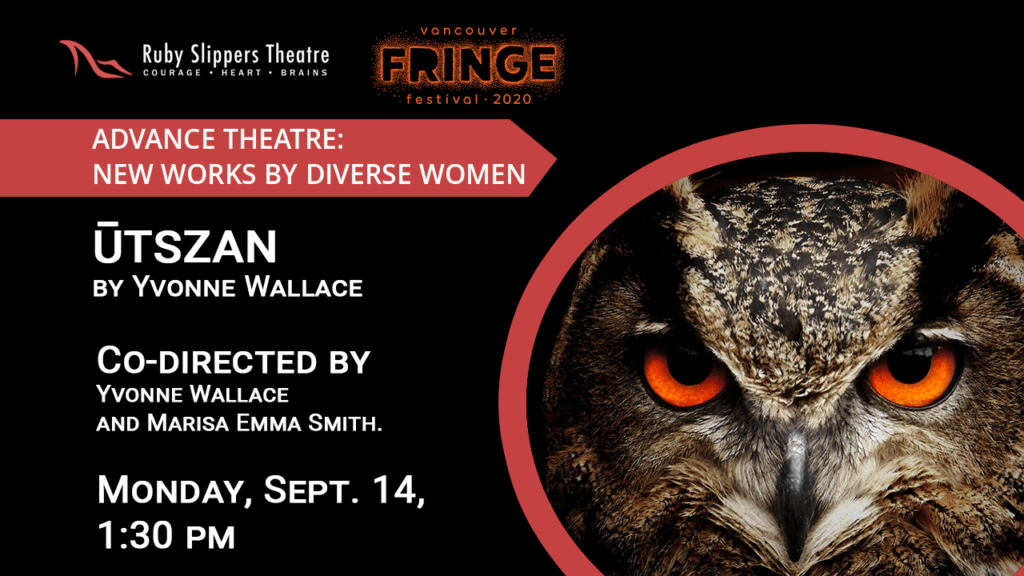 Monday, Sept. 14, 1:30 pm 
Playwright: Yvonne Wallace
Director: Marisa Emma Smith 
Aunt Celia, in her final days, refuses to speak English, forcing her niece Margaret to become fluent in Uewalmiewts. The Residential School system forcibly took Aunt Celia's language; now she courageously reintroduces it to her family fabric. Intense, poetic, intimate. 18+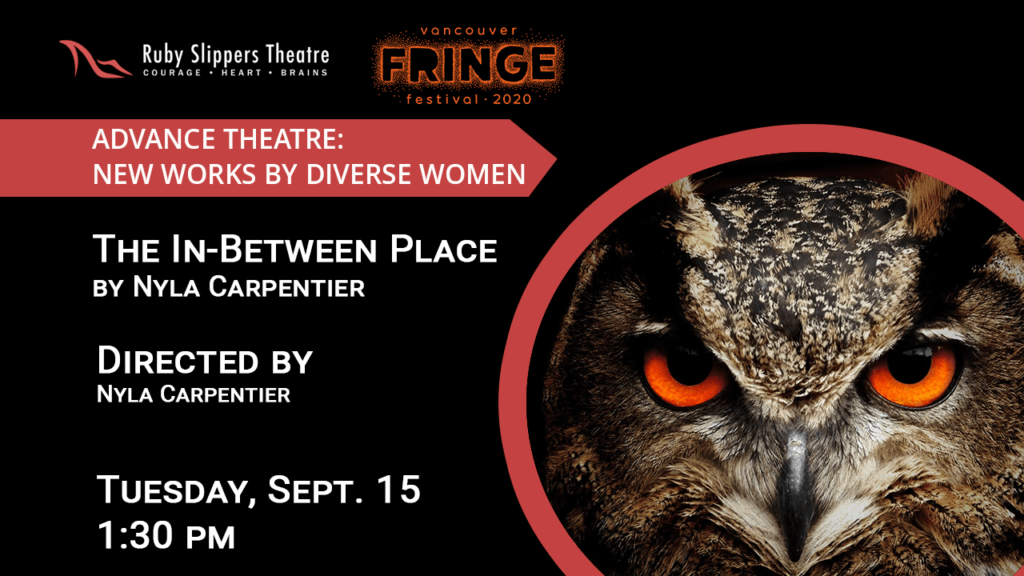 The In-Between Place by Nyla Carpentier
Tues, Sept. 15, 1:30 pm
Playwright: Nyla Carpentier
Director: Nyla Carpentier
Stage Manager: Nico Dicecco
Actors: Michelle Bardach, Darylina Powderface, Emilie Leclerc, Jordan Waunch and Ashley Cook
There's been an accident and Amanda, a mixed Indigenous woman, wakes up in a place between the living and the dead. In this strange place, her ancestors come to her, though they are not as she expected. Funny, weird, poetic. Racialized content. 14+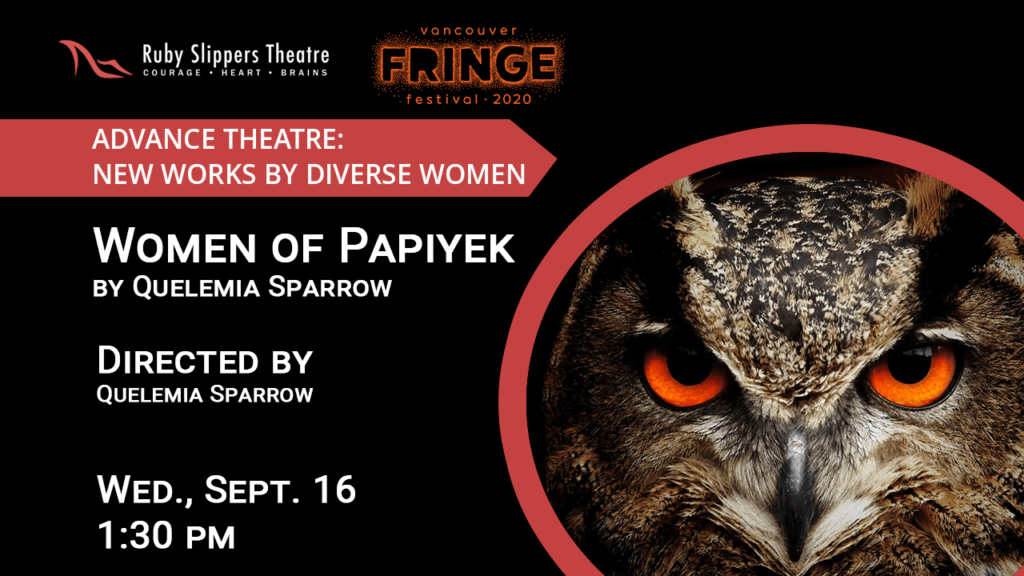 Ruby Slippers Theatre and The Vancouver Fringe Festival are sorry to announce the cancellation of the Wednesday, Sept 16 reading of The Women of Papiyek by Quelemia Sparrow due to unforeseen circumstances. The decision to cancel was mutual between the companies and the artists. The remaining four readings shall move forward as planned and we look forward to seeing you there.
CANCELLED Women of Papiyek by Quelemia Sparrow
Directed by Quelemia Sparrow
Generations of  European and Indigenous mixed race families lived in Papiyek (now called Brockton Point in Stanley Park) before being evicted from their homes and forced to re-locate. This is the story of three Indigenous women who lived in Papiyek at the turn of the 20th century. Intense, intimate, poetic. Warning: racialized content, violent content, and challenging content. 18+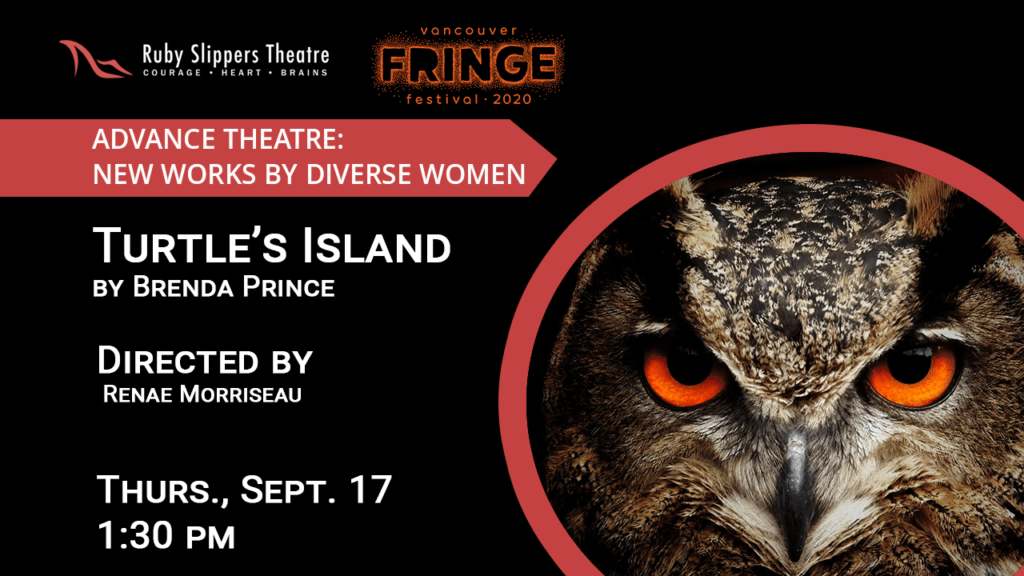 Turtle's Island by Brenda Prince
Thursday, Sept. 17, 1:30 pm
Playwright: Brenda Prince
Director: Renae Morriseau
Actors: Ashley Cook,  Olivia Lucas, Eugene Crain, Verna Kenoras and Raes Calvert 
Turtle's Island is a one-act comedy telling the Anishinabe Creation Story of North America AKA Turtle Island. Challenging content, racialized content. 18+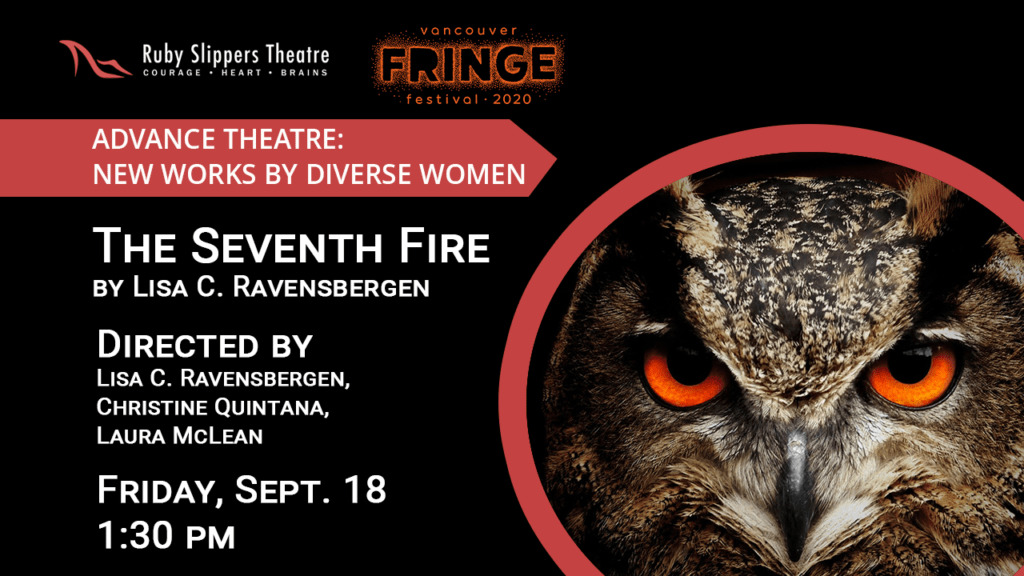 The Seventh Fire by Lisa C. Ravensbergen
Friday, Sept. 18, 1:30 pm
Playwright: Lisa C. Ravensbergen
Directors: Laura McLean, Christine Quintana and Lisa C. Ravensbergen
Actors: Margo Kane, Tasha Faye Evans and Quelemia Sparrow
This play tells the story of an Ojibwe woman who returns to the Ojibwe community she believes has rejected her. She discovers her destiny is tied to prophesy when she becomes pivotal to the community's survival. Poetic, intellectual, intimate. All ages.
All readings at Performance Works, 1218 Cartwright Street (Granville Island), Vancouver; admission by donation in advance online or at the door. Contactless payment only. No cash. Masks required. ALL READINGS WILL ALSO BE LIVE-STREAMED to Ruby Slippers Theatre's YouTube channel.
Advance Theatre: New Works by Diverse Women is produced in partnership with Playwrights Guild of Canada and Vancouver Fringe Festival.
This is your Advance notice: Female-identifying Indigenous artists are taking the stage.
In 2015, Ruby Slippers Theatre approached Playwrights Guild of Canada and The Vancouver Fringe Festival with the idea to showcase dramatic readings of five new plays written and directed by diverse female-identifying theatre artists. Thus, Advance Theatre was born. RST's radically inclusive vision is a world where diversity is celebrated through a deeper understanding of each other. So our Advance Theatre Festival is part of our larger, ongoing efforts that reflect our vision and mission to champion and celebrate diversity in the playwrights, directors, and actors we work with.
Admission by donation in advance online or at the door. Contactless payment only. No cash. Masks required. All readings will also be live-streamed to Ruby Slippers Theatre's YouTube channel. 
Our definition of female includes trans women, non-binary, two spirit and gender queer individuals. Our definition of diversity includes cultural background, age, sexual orientation, and physical/mental ability.
Media contact: Maryanne Renzetti
E: maryrenzetti@gmail.com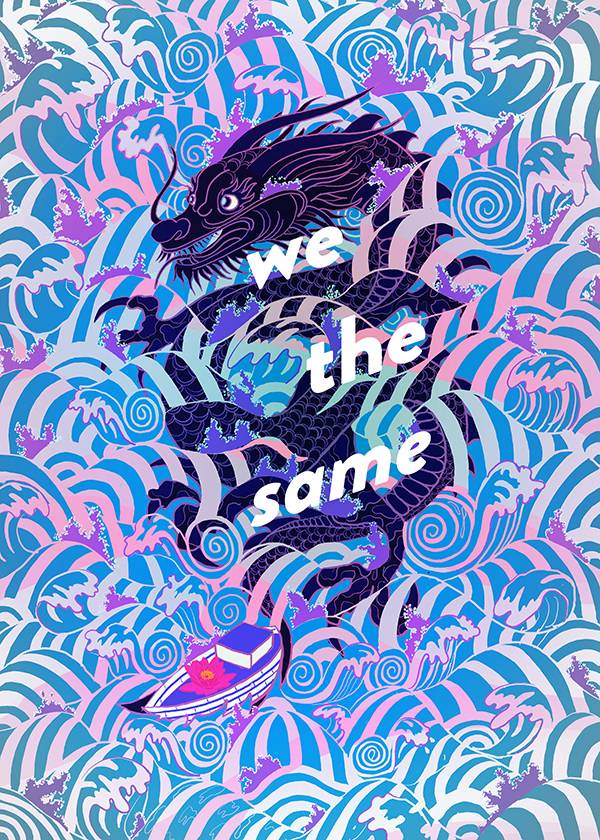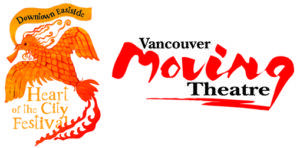 Monday, November 2 at 8PM 
For ages 18 and up. Pre-recorded at the Firehall Arts Centre. Following the reading, there will be a live Q&A on Zoom.
we the same
Monday, November 2, 8 pm
Free, donations appreciated
(to participate in this Zoom event and to receive email reminders)
we the same
1979: Inspired by a true story, a mother and six children are separated from their father as they flee Vietnam by boat, surviving pirate attacks, typhoons, starvation, shipwreck. 40 years later, she shares the story with her daughter for the first time. Are these family secrets, or things we don't talk about?

View Broadway World Article about we the same.
we the same – workshop artists
Playwright
Sangeeta Wylie
Director
Diane Brown
Actors
Elizabeth Thai
Grace Le
Khaira Ledeyo
Chris Lam
Brandy Le
Evelyn Chew
Music by 
Vi An Diep
Choreography by
Marion Landers
Speakers
Stella Nhung Davis (Lac Viet Radio Program)
Mohammed Alsaleh (refugee advocate)
Elizabeth Thai (actor)
Join us online for our English language new translation development workshop series.
 
Discover the leading new works of francophone Canadian theatre, meet the playwrights and their translators, and play a part in the new translation process.
 
Bouche Theatre Collective In association with Ruby Slippers Theatre & The Canadian Play Thing

A Glimpse into New Translation: Online Workshop Reading
STILL LIFE
By Marie-Ève Milot & Marie-Claude St-Laurent
Translated by Rhiannon Collett
Translated from Chienne(s) (Quebec, Canada)
"…this show crystallizes the revival of Quebec's feminist theatre, it's a vibrant homage to art, and a woman's place to challenge everything…" – Le Devoir
On her 30th birthday, a woman locks herself in her apartment. Paralyzed by fear, she examines the shards of her life in a poetic and raw portrait of anxiety disorders and their causes. Created with extensive research with le Centre d'études sur le stress humain, Chienne(s) was produced by Théâtre de l'Affamée and presented in residency by le Centre du Théâtre d'Aujourd'hui.
Join us after the reading for a conversation with the playwrights and translator.
Featuring: Allison Basha, Leanna Brodie, Eric Davies, Anthony Santiago & Christine Quintana
When: Sunday, November 22, 2020
Time: PT: 12PM | MT: 1PM | CT: 2PM | ET: 3PM | AT: 4PM | GMT/ WET: 8PM | CET: 9PM
Where: www.plaything.ca
For more information: www.bouchewhacked.com
Online venue opens 5 minutes prior to start. Capacity 100.  Latecomers welcome – audience does not appear on screen.
This translation and workshop were made possible by grants from Canada Council for the Arts. Artists appear courtesy of Canadian Actors' Equity Association under the Dance Opera Theatre Agreement. This project is produced with the co-operation of the UBCP/ACTRA.
By Fanny Britt.
Translated by Leanna Brodie.
Featuring Charlie Gallant, Lucia Frangione, Raugi Yu, Jovanni Sy and Agnes Tong.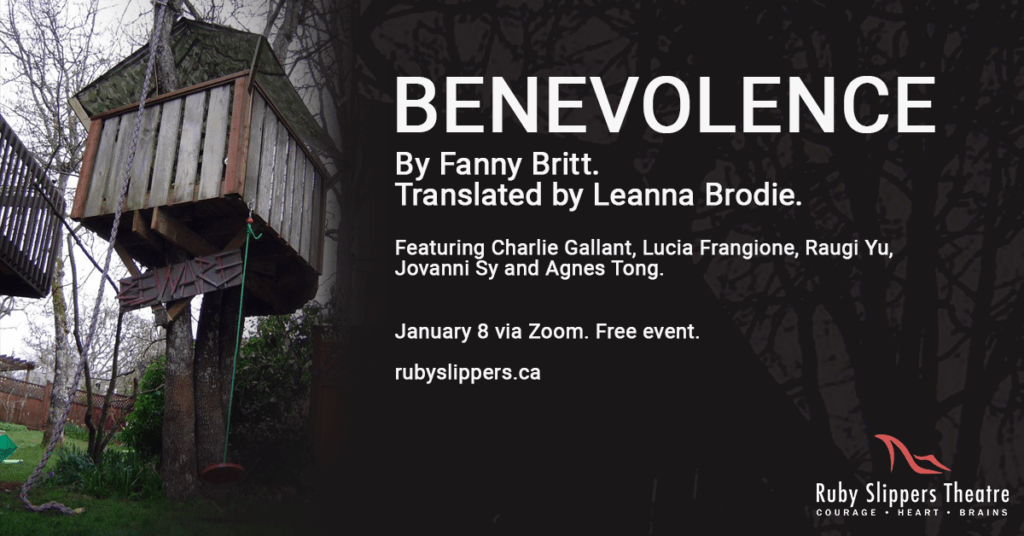 Leanna Brodie is a playwright, actor, and the award-winning translator of more than two dozen Québécois plays. The 2019-2020 season alone saw five scheduled English-language premieres, three remounts, and two Tom Hendry Award nominations.
FOR RUBY SLIPPERS: Christian Bégin's Après Moi and Why Are You Crying?; Catherine Léger's I Lost My Husband!; Sébastien Harrisson's From Alaska; Rébecca Déraspe's Gametes and You Are Happy. Leanna is an MFA candidate at the University of Calgary. Upcoming: Violette (Théâtre la Seizième); Schoolhouse (Two Planks and a Passion). www.leannabrodie.com
This live reading will take place at noon on Friday, Jan. 8th, 2021. 
Free via zoom. 
In Fanny Britt's brilliant and deliciously black comedy, a cutthroat big-city lawyer named Gilles returns to his hometown of Benevolence due to a tragic accident. This accident will test Gilles' integrity, and determine his fate. His righteous mother is certain he will do the right thing… but he and his ghosts are not so sure… Winner of the Governor-General's Award for Drama.
View our
Past Seasons
of Ruby Slippers Theatre, a Vancouver-based Theatre Company