Ruby Slippers Theatre's 2014/15 Season earned 8 Jessie Richardson Theatre Award Nominations and 3 awards. Bravo to all!
Celebrating the Outrageous Tenacious Human Spirit
Ruby Slippers Theatre is thrilled to present a season celebrating the courageous, outrageous, tenacious human spirit. For the past 26 years, Ruby Slippers Theatre has created, produced and presented provocative text-based theatre from the vanguard of the English and French Canadian canon, illuminating diverse perspectives and social issues. The 2014/15 season furthers this commitment, while reflecting our penchant for smart social satire that is infectiously entertaining.
CELEBRATE CRUCIAL NEW VOICES FROM QUEBEC IN ENGLISH TRANSLATION!
In association with BoucheWHACKED! Theatre Collective
January 27-February 1, 2015
Studio 16,
1555 West 7th Avenue, Vancouver, BC
Après Moi
Written by Christian Bégin, Translated by Leanna Brodie | Featuring *Scott Bellis, *David Bloom, *Jennifer Lines, Chirag Naik and *Dawn Petten | Directed by *Diane Brown | Set and Lights by John Webber | Costumes by Drew Facey | Sound by Mishelle Cuttler
Après Moi is six versions of the same story, six ways of experiencing the same moment with increasing intimacy. It's also a chance to see five of Vancouver's best actors deliver performances laced with sincerity and absolute precision. An examination of loneliness, this play explores our ever more distant connections to others, emphasizing the transformational power of human relationships, all with a strong dose of black humour.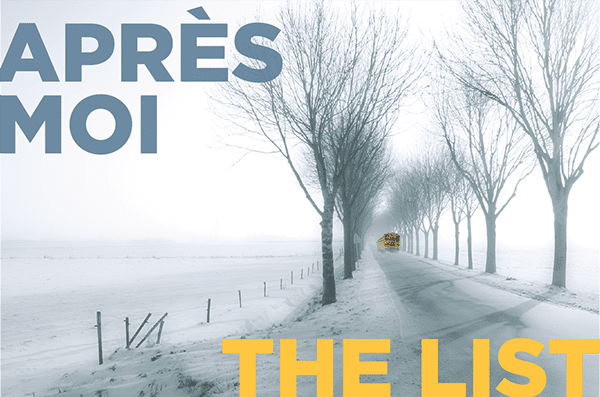 The List
Written by Jennifer Tremblay, Translated by Shelley Tepperman | Featuring *France Perras | Directed by *Jack Paterson | Set and Lights by John Webber | Costumes by Drew Facey | Sound by Mishelle Cuttler
In The List, A woman invites us into her kitchen. Her neighbour is dead. Is she culpable for the death? The woman, who prides herself on never letting anything slip by, has overlooked an item on her list. A riveting tale of everyday to-do lists in which the essential and the ordinary are inextricably entwined.
*Appearing with the permission of Canadian Actors' Equity Association.
The Reviews are In!
Preview / Après Moi and The List – SadMag | January 29, 2015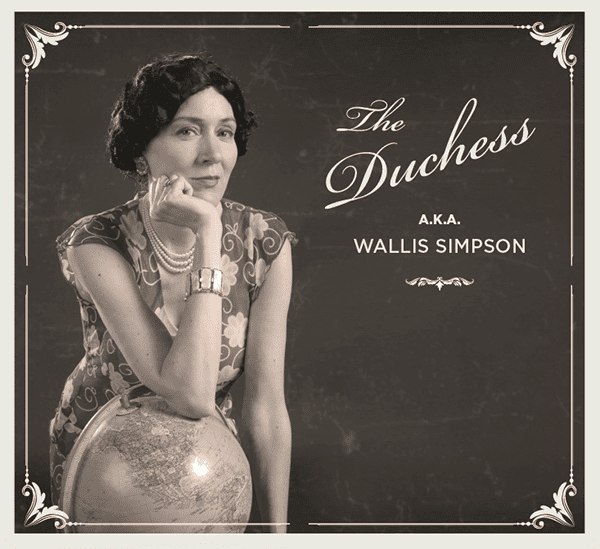 The Duchess aka Wallis Simpson
April 7-18, 2015 at the Cultch Historic Theatre, 1895 Venables Street, Vancouver, BC
Apr 7-12, 14-18: 8PM
Apr 11, 12, 18: 2PM
Lively post-show talkbacks: Apr 9, 14
Preview: Apr 7
Opening Night: Apr 8
Tickets and info: The Cultch | The Cultch Box Office, 604.251.1363
Running time: 120 minutes with intermission
By Linda Griffiths | Featuring Eileen Barrett, Georgia Beaty, Diane Brown, Craig Erickson, Joel Garner, Raugi Yu​, Melissa Oei, Kamyar Pazandeh, Matt Reznek, Xander Williams | Directed by Sarah Rodgers | Set by Michael Bock | Costumes by Mara Gottler | Lighting by John Webber | Sound by Scott Zechner | Choreography by Shelley Stewart Hunt | Photo Credit: Tim Matheson | Also featuring the sexy stylings of John Fluevog Shoes, one of our Season Sponsors!
THE DUCHESS a.k.a. Wallis Simpson is the fabulous, epic and true tale of Wallis Simpson, the notorious, convention-smashing American divorcee for whom Edward VIII gave up the throne in 1936. The play follows her through her tumultuous adult life and features such historical figures as Noel Coward, King George V, Queen Mary, Hitler and, of course, Wallis Simpson. 
The Reviews are in!
THE SUN 
"She eats Craig Erickson's boyist Edward VIII alive, and stands toe-to-toe with Hitler himself"
"Brown's pitch perfect Simpson makes it all absolutely worth it. Tall and sassy, at once scandalously immoral and beguilingly naive, she sashays through history seducing men and destroying just about everything she touches."
THE STRAIGHT
Playful, sexy, irreverent—The Duchess is a lively ride through the life of 20th-century icon.
"You can't just get rid of women like me—we stick," says Simpson at one point. With portrayals as memorable as this, she's likely to stick around for a long while yet.
REVIEW VANCOUVER
"Diane Brown and Craig Erickson front wonderful chemistry as Wallis and Edward. There is palpable affection and clear contrition between them."
VANCOUVER PRESENTS!
Diane Brown is absolutely breathtaking as Simpson. …Brown is so effective in the role that we actually root for her. 
As the man who-would-not-be-king, Craig Erickson finds a sobering melancholy among the chaos that was the couple's life together.
Stand-outs among the ensemble include Beaty who does a very funny job in a caricature of Queen Mary, and Eileen Barrett finds depth as the bitter sister-in-law Elizabeth. Reznek reprises his role of Hitler with great results.
Ultimately, any production of The Duchess a.k.a Wallis Simpson is only as good as the actor in the title role. Diane Brown's stunning performance makes this production a
success. 
The Great Raymond-A Play in Development
FREE CULTURE DAYS EVENT
September 26, 1-4pm
Mount Pleasant Community Centre, Multi-Purpose Room 2
Directed by Diane Brown
Featuring Meghan Gardiner, Dawn Petten, Monice Peter, Barbara Pollard, Leslie Dos Remedios, Donna Soares, Colleen Wheeler
The Great Raymond, by award-winning writer Timothy Taylor, is based on the astonishing true story of police corruption and outrageous scandal in 1950s Vancouver. Ruby Slippers Theatre is presenting an open workshop on September 26, 2014 featuring an all-female cast; women playing hard-boiled journalists, detectives, bookies and cops in this gritty Femme Noir drama.