A Beautiful View

The intangibles of love are explored in our nationally acclaimed production of A Beautiful View presented at SFU Woodwards in the Fei and Milton Wong Experimental Theatre. Written and directed by Governor Generals Award-winner Daniel Maclvor. A Beautiful View is a both clever and compassionate story of two women who meet and mistake each other for a lesbian. A Beautiful View will be presented at the Fei and Milton Wong Experimental Theatre at SFU Woodwards September 26th-29th.
The Great Raymond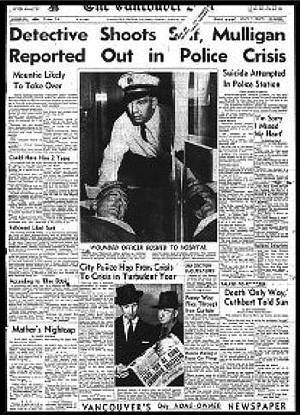 The Great Raymond is a portrait of Vancouver in the 1950s,inspired by the investigations of reporters Jack Webster and Ray Munro into police corruption. A collaboration between the Vancouver Playhouse Theatre Company, Ruby Slippers Theatre, and award-winning local writer Timothy Taylor, author of Stanley Park, the project will culminate in a world premiere production at the Vancouver Playhouse in 2013. You can catch it on Saturday October 20th at the Vancouver International Writers Festival.
Hotel Bethlehem
Hotel Bethlehem, by award-winning Vancouver playwright Drew McCreadie, dares to deconstruct the Nativity Story through satire and insightful humanity. It's back this Christmas! It is probably the one and only existential Christmas comedy that will have you belly-laughing for two hours. Please join us at the Shadbolt Centre for the Arts in Burnaby December 12 – 15 and the Firehall Arts Centre in Vancouver December 18 – 22.