Trudeau Stories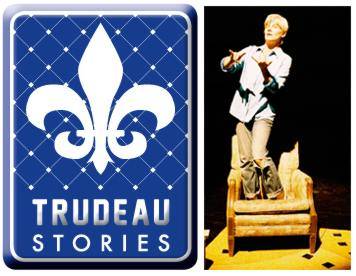 Our Femmes Fatales Series featured Brooke Johnson in Trudeau Stories (a co-presentation with Presentation House) from November 9-13, 2010. For seven years, Ruby Slippers Theatre's Femmes Fatales Series has showcased women theatre makers who create and perform their own work. These courageous heroines deftly transcend sexual stereotypes and theatrical expectations with their tour de force performance work. Past Fatales have included the incomparable Marie Brassard, Karen Hines, Denise Clark, Tara Cheyenne Friedenberg and Tracey Powers. The enigma of Pierre Elliott Trudeau is a bug Canadians will never fully get out of our system. His presence redefined a somewhat dowdy country in the eyes of the world, leaving us with a collective anxiety about whether we quite measured up. Brooke Johnson has captured this strange ambivalence in a beautiful one-woman show about her friendship with the just-retired PM when she was only 23.
---
A Beautiful View: National Showcase!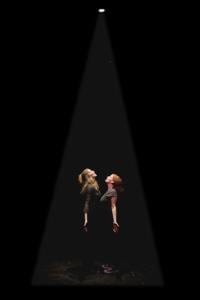 Ruby Slippers Theatre was also thrilled to be taking our critically acclaimed production of A Beautiful View to the national stage! A Beautiful View ran from Tuesday April 5 to April 9, 2011. All local performances took place at Presentation House Theatre, in North Vancouver. Also the show played at The Centaur Theatre in Montreal, one of Canada's foremost English speaking theatres, from April 19 – May 22, 2011. A Beautiful View is a seriocomic trek across the intangibles of love, and about our affinity for re-writing history in its name. Two women, both camping aficionados, meet while shopping for tents. Their connection informs their choices for the next two decades, culminating in a quiet note of tragicomedy.
---
A Beautiful View – Reviews
The reason that I go to the theatre is that I hope to have experiences like the one I had at A Beautiful View.
– Colin Thomas, The Georgia Straight
This stellar presentation is one of exhilaration; as live theatre so often proves, this is the stuff that dreams are made of.
– Peter Birnie, The Vancouver Sun
This is another witty, honest exploration of what it is to be human wrapped up in innovative metatheatrics.
–  Jo Ledingham, The Vancouver Courier
Making a Scene Theatre Conference!

Ruby Slippers was at the GVPTA's annual Making a Scene Theatre Conference!
WHAT: Two days in which YOU design the programme and set the discussion topics which matter to you.
WHERE: W2 Storyeum, 151 W. Cordova St, Vancouver BC (the old Storyeum space)
WHEN: Friday November 26 & Saturday November 27 2011
WHO: For anyone who cares about theatre! Whatever your connection to theatre; on stage, back stage, off stage, on a board, in the audience – you were invited. All sectors and genres; Fringe, Regional, Indy, Commercial, Large, Small, Community, Touring, TYA, etc. You are ALL invited.