It's always best to be recognized by your peers, and Ruby Slippers Theatre is thrilled to wrap up its 20th Anniversary Season leading the Small Theatre nominations with an exciting 8 Jessie Richardson Award nominations – including Outstanding Production – for the English language World Premiere Production of Serge Boucher's LIFE SAVERS, translated by Shelley Tepperman. Read more on Ruby Slippers Theatre's Jessie nominations.
---
No woman ever made history by behaving.
A weekend of theatrical misbehaviour led by Governor General's Award-winning playwright Colleen Murphy (The December Man).
November 22 and 23, 2008
Masterclass with Colleen Murphy
November 22 and 23, 10 – 6 pm
Reading
Saturday, November 22, 8 pm
New works read by Vancouver's hottest theatre-makers followed by In conversation with Colleen Murphy, hosted by Martin Kinch.
Festival House,
1398 Cartwright Street,
Produced in association with
Life Savers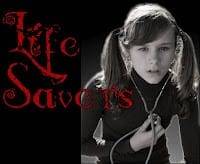 A life-affirming comedy about death.
English language World Premiere Production
by Serge Boucher
translated by Shelley Tepperman.
Directed by Diane Brown.
Featuring Patti Allan, Kevin McNulty, Mike Wasko, Colleen Wheeler, Deborah Williams, Naomi Wright and many more!
April 4 – 19, 2009
Performance Works,
1218 Cartwright Street,
Granville Island
April 22 – 25, 2009
The Shadbolt Centre for the Arts,
6450 Deer Lake Avenue, Burnaby
What the audience said…
"Loved the Stage. Loved the Aunt (in Mom's the Word as well). Father, mother, sisters, everyone was really really good.
When it comes to live theatre, I always hope and hope that the actors will be convincing, and then second that the story is well-done (I just can't concentrate on the play, if I don't buy the performances). But they were all fantastic – nice work everyone!"  – S. Bailey
"It was indeed a fabulous performance! {We} went off to the GI Hotel for a drink and what turned out to be a really deep conversation about our various takes on the "story" – a sign that each of us was profoundly affected by the play. What greater statement is there than that?" –  Brenda Berck
"The play and the production tonight was absolutely fantastic. Your direction was flawless and the ensemble cast stellar. What a perfect night at the theatre! I will most certainly spread the word to my entire acting student base that this is a must see play. Congratulations on twenty years, and have a great run!" – Iris Quinn and Fred Henderson
"Diane's direction (of the play) was masterful. Please pass on my congratulations to Diane on bringing together one of the most diverse groups of players & roles in a play that had people around me both laughing and crying!!! She did a great job and thank you." – Allan & Faigie Waisman
Plus these…
"Powerful performances."
"Bravo to all!"
"Fantastic!"
"Thoroughly impressive."
"Excellent show."
---