A Fabulous Disaster
In November of 2004 Ruby Slippers and
The Firehall Arts Centre
presented the premiere of
A Fabulous Disaster,
starring and created by Denise Clarke.
A tragic comedy of dire warnings and light hearted musings drawing on all things opposite – Denise Clarke has given up and is ready to go. Clarke bought sharply drawn observations and glorious physical response together in a strange but beautiful and funny little show about the whole world and one person in it. Denise Clarke is known for her solo work and for her long-time association with One Yellow Rabbit. Last season she brought her theatre/dance piece Sign Language to Vancouver, and the season before was part of the OYR ensemble in Dream Machine also in Vancouver.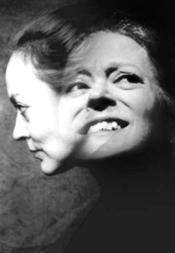 Denise Clarke, A Fabulous Disaster by Sean Dennie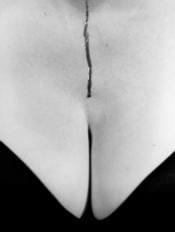 In March 2005 Ruby Slippers Theatre and Studio 58 presented the Western Canadian Premiere of
The Waiting Room
, by Lisa Loomer, directed by Diane Brown at
Studio 58, Langara College
Sets by Yvan Morissette Lights by Itai Erdal, costumes by Sheila White, sound and visuals by David Hudgins, featuring Scott Bellis, Beatrice Zeilinger and Allan Zinyk along with the senior students of Studio 58
Wanda, a modern New Jersey gal, is having problems with breast implants. Victoria, a tightly corseted Victorian, is waiting to have her ovaries removed. Forgiveness, a wealthy 18th century Chinese woman with bound feet, is waiting to have her toe re-attached. The Waiting Room examines the balance of power between men and women, eastern and western cultures and conventional and unorthodox medicine. Lisa Loomer's ironic comedy asks – at what cost beauty?