Shopping and Fucking
Ruby Slippers Theatre and Pi Theatre co-produced the Western Canadian premiere production of Shopping and Fucking by Mark Ravenhill. Described as "a searing, intelligent, disturbing satirical dialogue", this cutting-edge drama of disenchantment bowled over audiences across Europe and Russia. A ruthless and surprisingly hilarious indictment of consumerism and violence in our society, Shopping and Fucking explores the desensitization of the disenfranchised twenty-something generation.
Le Noirceur
Ruby Slippers Theatre, with the Firehall Arts Centre, co-presented the Western Canadian premiere presentation of Marie Brassard's haunting and sensual Le Noirceur. Le Noirceur featured Brassard, a protege of Robert LePage, sharing the stage with another actor / dancer and a musician. The three explored friendship in a story about a little girl killed by a car. Intimate, personal and highly refined, the piece induces a very direct rapport with the audience.
MMM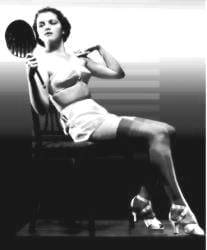 Ruby Slippers presented MMM, written by Lucia Frangione, with music by Jim Hodgkinson, directed by Diane Brown, with dramaturge Rachel Ditor.
When sex icon Mod released her first pop album Jam This Up Yours, she was the toast of the town. Now she's dry toast, with a career tits up and assets drooping. We joined Mod, Mae and Marilyn for too many martinis as we traversed a century of feminine identity through a family of battling sex icons.